Did you know the word Lent means Springtime? Kind of ironic as I look outside the window, but today, February 17th, is the first day of Lent - 40 days devoted to prayer and fasting by millions of Christians around the world to unify and align our mind, body, and soul to Christ's in expectation of remembering his crucifixion and celebrating his resurrection. As Advent is to Christmas, Lent is to Easter. Celebration requires intentional preparation and the weeks leading up to some of our most Holy days are in my opinion more important, more formative than the one day of celebration itself… if we let it.
We don't see anything in the Bible about Lent, so where did it come from? Just a few years ago in 325 AD, the Church had its first official meeting calling its leaders from around the world to come to the Council of Nicaea. You may have heard of the Nicaean Creed. This meeting was to address heresies about Jesus circulating the churches in the Roman empire that were really dividing the Church. It was at this meeting they established these 40 days leading up to Easter to vet new believers and to call them to prayer, fasting, and meeting with the leaders of the church prior to being baptized into the Church. It was also a time for those who had been removed and excommunicated because of unrepentant sin or heretical teachings to be brought back into the church if they would commit to this season of repentance for their sins and denounce any heretical beliefs. Lent was established to call the Church, those who wanted to join the Church, and those who wanted to come back to the Church to a season of preparation and devotion before celebrating the good news of the resurrection, Easter.
If you're like me, you didn't grow up in a church that talked about these seasons in the Church calendar. We celebrated Christmas and Easter of course, but our church calendar revolved more around Missions Sunday, promotion Sunday, VBS, Church Camp, and Mother's Day! As a means to reach new, young families, our church tried to distance itself from anything that gave a religious, traditional vibe and for sure anything that felt "Catholic-y". So, when I heard there were practices and experiences had by millions of other Christians around the world I had never heard of, I wanted to know more! Was it possible I was missing out on something? That my experience of worship and faith was limited because of where I was born or what church I grew up in? Why was it that Anglicans, Catholics, Orthodox, Lutherans, Methodists, Presbyterians, and many other traditions viewed these seasons as important and formative that I had heard nothing about?
Others of you maybe come from a faith background, whether Catholic or denominational, that every year follows these traditions. You may have had a bad experience with them, viewed them as mandatory to belonging to the church, or done without any real reverence or understanding why. Depending on your experience, engaging in Lent may be a step backwards in your walk with Christ now rooted in freedom and love, rather than legalism and dead works. At the end of the day, I always want to remind our people that these liturgical traditions and practices are simply tools, opportunities, and reminders. Our ultimate goal is not to get our people to practice Lent or to pray, or to fast, but only to stir their affections for the Lord, help them throw off sin in our lives that so easily entangles us, and cultivate a real and maturing relationship with God. Lent can help make us better disciples of Jesus, but not all disciples practice Lent and that's 100% ok. To love God with all our heart, soul, mind, and strength and to make disciples are the ends we seek and I believe Lent and other tools that have been used by Christians for generations before us help accomplish that mission.
Below you'll find a few resources and opportunities to engage in this season of Lent. Whether this will be your first time or your 50th time devoting these 40 days before Easter to prayer and fasting, I pray these resources below help you be intentional, disciple you to learn more about Jesus and how we are called to live like him, help us all live a holier life, and prepare your mind, body, and soul to experience the crucifixion and resurrection in a fresh and special way this year.
Out of gratitude for what Jesus has done for us, let us be holy as He is Holy. He has saved us, He is saving us, and we look forward to the day that he will save us.
Ben
---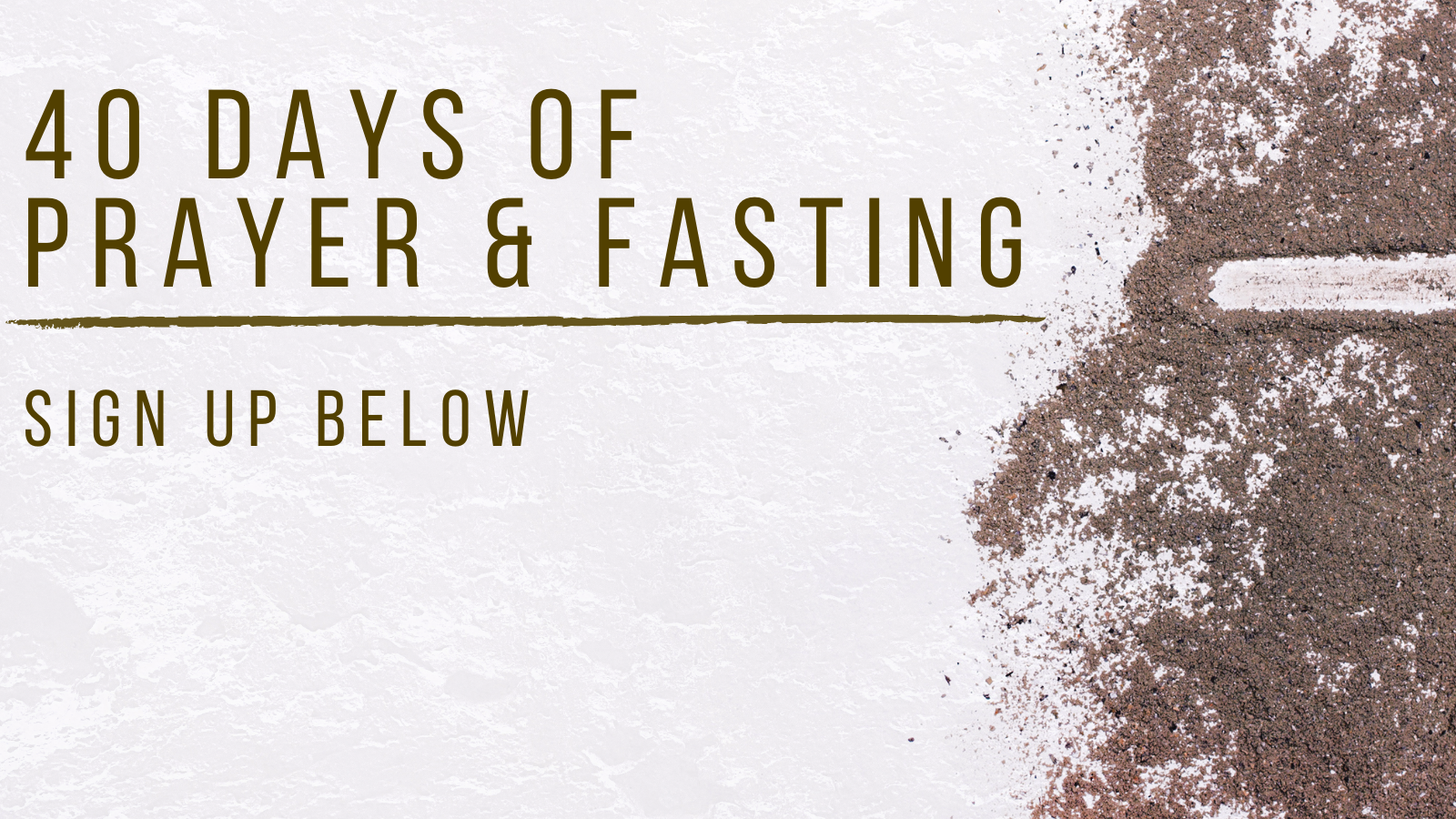 40 Days of Prayer & Fasting by the People of New Hope
Jesus told his disciples, not if they fast, but when they fast... Jesus himself fasted in the desert after his baptism for 40 days. Fasting though in the contemporary American church has been somewhat of a lost discipline. Many don't know why fasting can lead to spiritual intimacy with the Lord, and if they do, most haven't been taught how to do it! In a country of abundance, obesity, gluttony, and overconsumption of technology, fasting could be one of the most important disciplines for the Church to re-center our hearts on God's. Many have never fasted before and so we wanted to do this 40 days together as a Church. If you want to commit to a day of fasting and prayer, click the link below! How amazing would it be to know that every day leading up to Easter we would know someone in our church family is devoting themselves to prayer over us and our devotion to Jesus leading up to the celebration of Easter Sunday!
Article - Why Fasting? Article – How to Fast?
Scriptures on Fasting
Matt. 6:16-18, Joel 2:12, Daniel 10:3, Acts 14:23, Luke 4:2, 1 Corinthians 7:5, Matthew 4:2-4, Ezra 8:23, Luke 2:37, Acts 13:3, Exodus 34:28, Joel 1:14, Jonah 3:5-10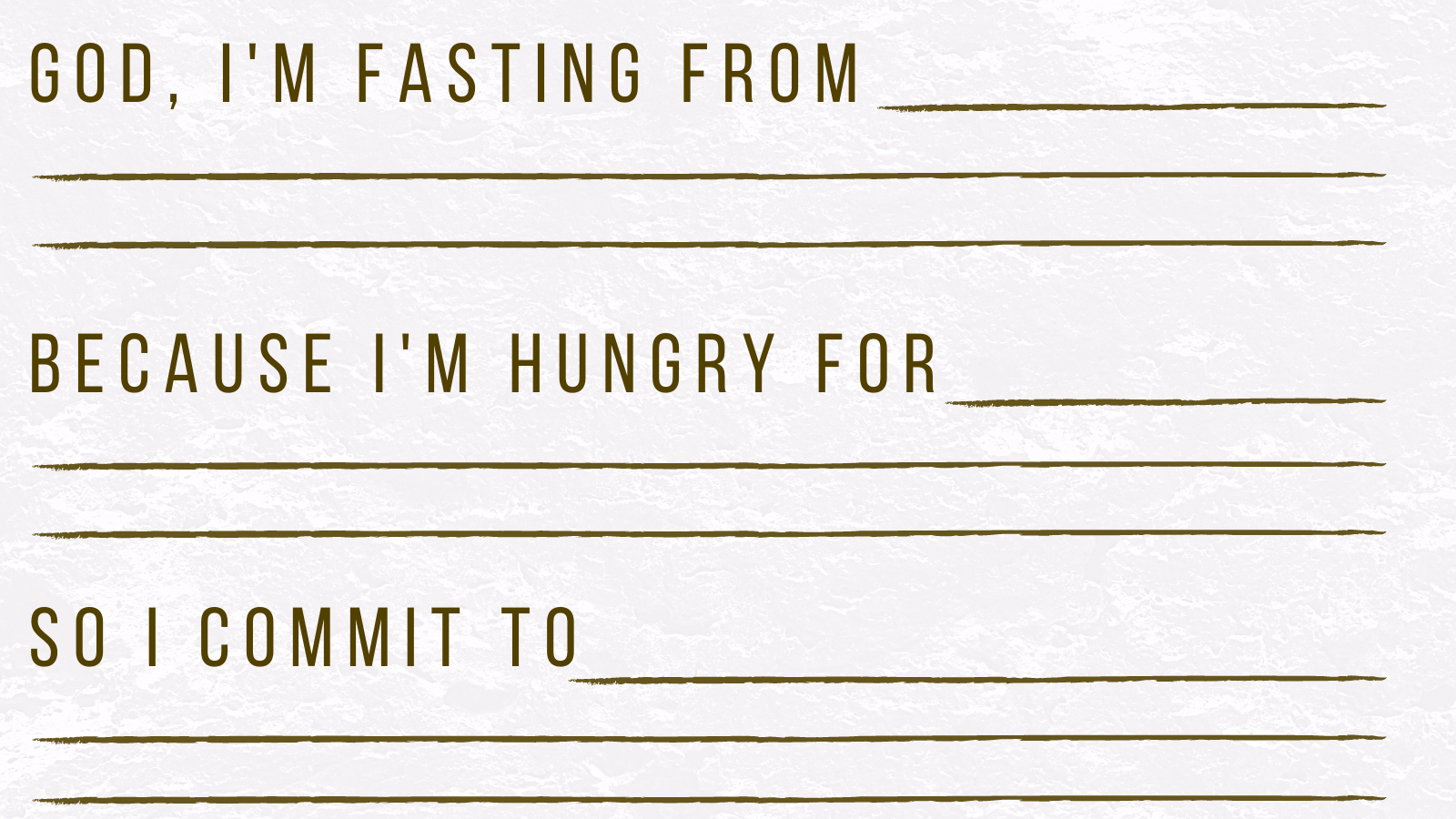 Sign Up Here to Commit to a Day of Prayer and Fasting
---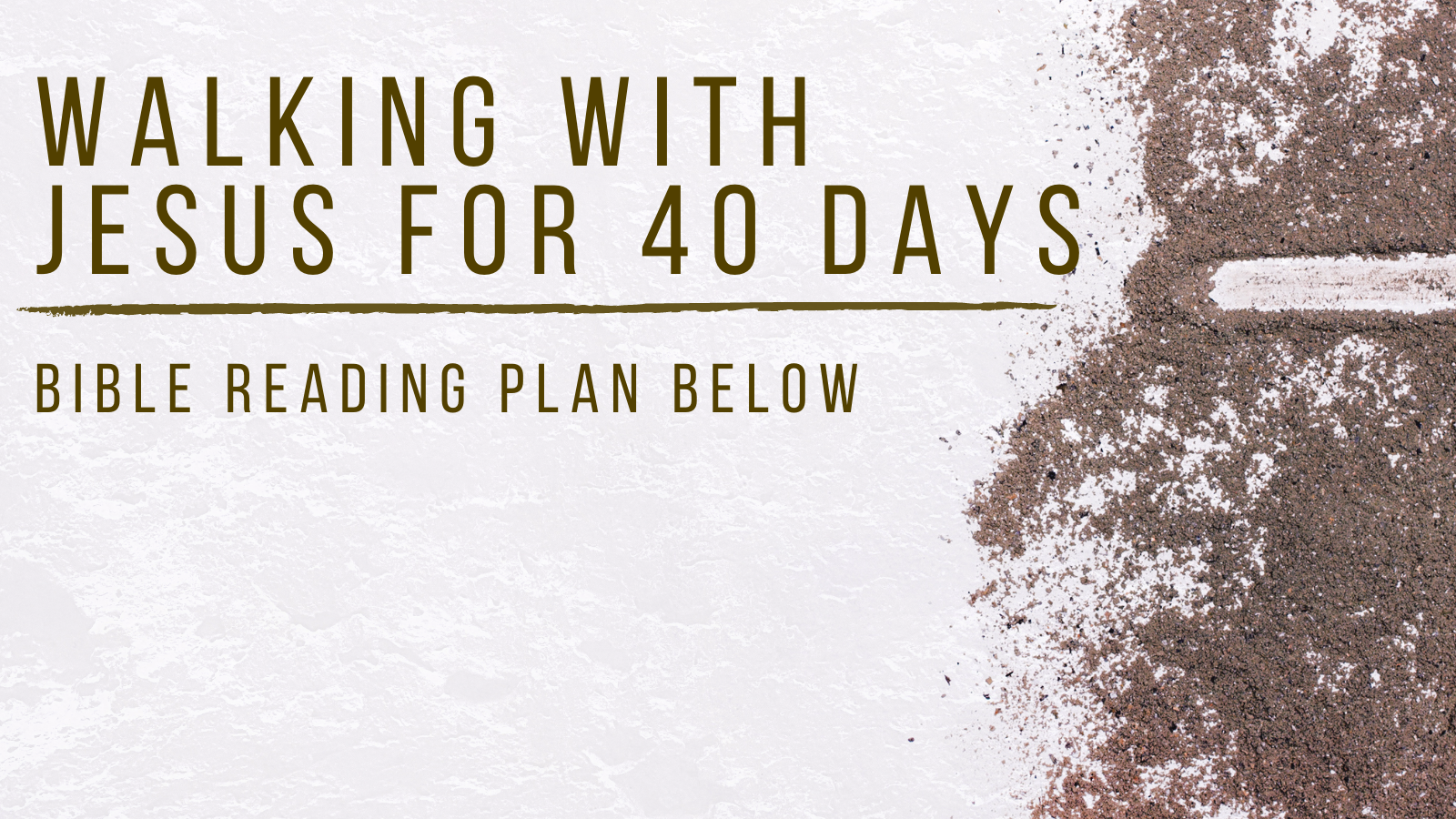 40 Day Reading Plan through the Gospels
Description: If discipleship could be defined as, "Cultivating the character and priorities of Jesus in another" how can we know the character of Jesus and his priorities if we aren't continually reading about his life? How can we be his disciple if we aren't examining the way he lived, what he said, how he taught, how he prayed? Join us in reading all 4 gospels over the course of these next 40 days of Lent in preparation to fully celebrate the fullness of His resurrection.
Click here to join us on the YouVersion Bible app
---
A Prayer for Lent
In these days leading up to Easter, I beg of you, my Lord, to show me and remove from me anything which separates me from you, and you from me.
Lord, in your Mercy, remove anything that makes me unfit to serve you and be blessed by you.
Lord, in your Love, cast from me every evil that stands in the way of me seeing you, hearing you, fearing you, and being mindful of your Spirit.
Lord, in your Grace, help me to desire above all else to better know you, trust you, love you, and become more like you.
Lord, in your Holiness, sanctify me in your truth and make us a holy people belonging to a holy God.
This is what I ask and expect of myself and earnestly desire from you. This is what I will commit to during this season of Lent and the rest of my life.
Amen.