Christmas at New Hope
Christmas is a very special time here at New Hope. We hope you will join us to celebrate the birth of our Savior, learn from our Christmas sermon series - Waiting on a Savior, and find ways to bless our community this season.
Our Christmas sermon series "Waiting on a Savior" will run November 27 - December 18, focusing on Galatians what it meant for the people of God to wait on a Savior - and what it looks like for us to wait with hope, peace, joy and love. If you're unable to join us in person, please join our live stream at 9:30am on our website, Facebook Page, or YouTube.
The Giving Tree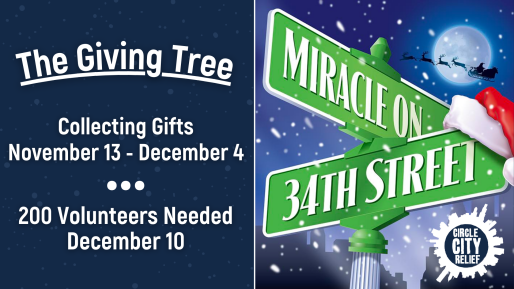 Our church is partnering with Circle City Relief and Miracle on 34th Street this Christmas season. Through this ministry, parents will have the opportunity to select Christmas gifts for their kids. As a reminder, bring your gifts to the church during the week or on a Sunday morning. The deadline to drop off gifts is Sunday, December 4th.
An additional opportunity to bless others will also be available on December 3. Each year, Hero Family Outreach runs a program called Packages 4Patriots that sends care packages to our military men and women. These boxes will be packed and ready, but we need your help to mail them! Each package costs around $10 to ship. Grab a box (or many), and take them to the post office to send on their way.
Young Adult Christmas Party - December 10 @ 7pm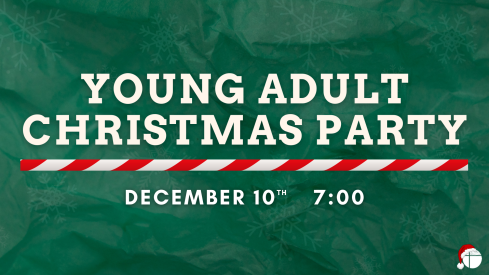 Anyone in their 20's is invited for a white elephant gift exchange and pitch-in dinner! Sign up here to let us know you're coming!
Student ministry christmas party - December 14
All 5th-12th grade students are invited to this year's party on Wednesday, December 14 from 6:30-8pm in the Student Center.
Christmas worship night - December 16
Our Christmas Worship Night will take place at 7:00 on December 16! Please join us as we lift our voices in praise, and as we prepare our hearts to celebrate the Birth of Jesus.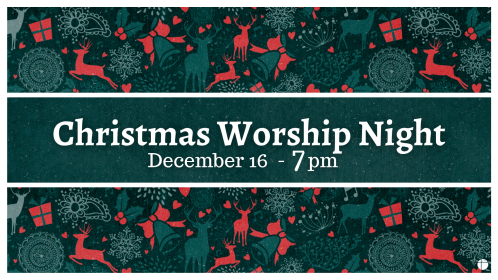 Christmas Sweater Sunday - December 18
Wear your favorite Christmas sweater to church!
Christmas Eve Services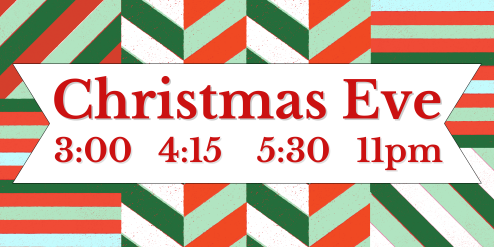 Our Christmas Eve services will be held at 3, 4:15, 5:30, and 11:00pm. Childcare for birth-5 years old is available at the first three services. If you're unable to join us in person, please join our live stream at 5:15pm on our Live Stream page, Facebook Page, or YouTube.
Volunteer for Christmas Eve
If you call New Hope your church home, we need your help! Please email the appropriate person below to let us know if you can volunteer during one of our services.
Kid's Central - Email
Door Greeters - Email
December 25 Family Services
On Sunday, December 25, we are holding one family service in lieu of our normal Sunday services. Join us at 9:00am and bring all your kids to service with you so we can bless our volunteers with a day off. This will be a special time for us all to worship together on Christmas Day!