The Gift of Peace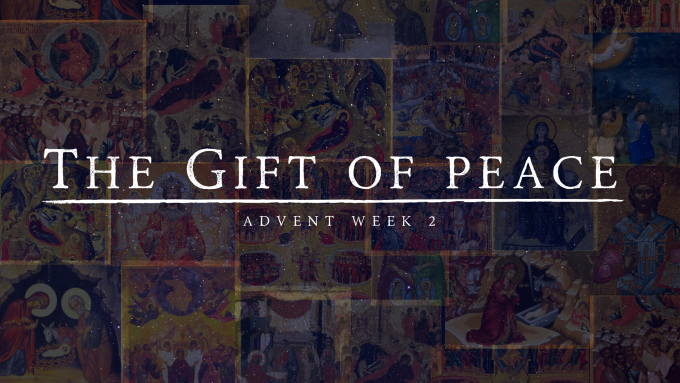 "For I know the plans I have for you," declares the LORD, "plans to prosper you and not to harm you, plans to give you hope and a future." – Jeremiah 29:11
For almost a decade now, I've always loved the music written by John Mark McMillan. Most of you probably don't know who that is, but you've probably sang his song, How He Loves. I've listened to his albums on repeat, seen him in concert, gotten his autograph, wore his concert tour t-shirt until it was unwearable, and kept up with him on social media. Well, you could imagine my excitement when I was asked if I wanted to interview him about his latest Christmas album, Baby Son, on a friend of mine's podcast, The Daily Brew. That song is actually one of my favorite Christmas songs! Here's a snippet of the lyrics:
We thought You'd come with a crown of gold
A string of pearls and a cashmere robe
We thought You'd clinch an iron fist
And rain like fire on the politics
But without a sword, no armored guard
But common born in mother's arms
The government now rests upon
The shoulders of this Baby Son
Have you no room inside your heart
The inn is full, the out is dark
But upon profane shines sacred sun
Not ashamed to be one of us
The day of the interview, I was so nervous. I meticulously worded all my questions, I tried to think of ways to come across as casual and funny, my stomach knotted up as the phone rang, and I paced back and forth jittery the entire conversation. I think that's the definition of starstruck, and yet it was over someone you've probably never even heard of, over someone that I've admired and thought of for years, yet who has no idea who I am.
Wouldn't you think our relationship with God would be similar? That the Creator of universe has no reason to know who we are and no business being around us? We spend all this time, some our whole lives, thinking about Him, reading about Him, praying to Him, and yet who are we that he would be mindful of us as the psalmist writes in Psalm 8?
And yet, Jeremiah 29:11 tells us that this God knows the plans that he has for His people; plans that include prosperity, hope, and a future. A better translation of that verse says, "For I know my thoughts towards you…" We could, and should, stop right there and be taken back that the God of the Universe, the Alpha and the Omega, the God outside of time and space, thinks of us.
But what does Jeremiah tell us the Lord is thinking about? It says plans to prosper us, but the Hebrew word used there is the word Shalom. The word Shalom is a rich Hebrew word that in its most basic understanding is translated as peace. For Israel, it was a promise of peace that comes from the absence of war and the fear of being conquered, which ultimately will lead to their prosperity and a future as a nation under the rule of a mighty king, but even more, shalom is peace from God that brings wholeness and makes all things right, not only for us, but all creation. Shalom is what we are longing for when Christ returns, where we will no longer be separated from God and one another because of our sin, brokenness, and rebellion. Peace with God. Peace with ourselves. Peace with our neighbor. Peace with creation. Shalom.
Our Advent reading plan on day 4 took us to Jeremiah 33, where God promises the people of Israel what his plan of shalom will be…
"I will bring Judah and Israel back from captivity and will rebuild them as they were before. I will cleanse them from all the sin they have committed against me and will forgive all their sins of rebellion against me… The days are coming,' declares the Lord, when I will fulfill the good promise I made to the people of Israel and Judah. In those days and at that time. I will make a righteous Branch sprout from David's line; he will do what is just and right in the land. In those days Judah will be saved, and Jerusalem will live in safety. This is the name by which he will be called: The Lord Our Righteous Savior." – Jeremiah 33:7-8; 14-15
I can already see some of you squirming as the broken record of Context is King! is being triggered in your head by quoting Jeremiah 29:11, a commonly taken out of context passage. So, I'll address the elephant in the room… Yes. This passage is not written to us, but to the people of Israel in exile. God did not tell the church in modern day America that he has plans for our prosperity and future. But I'll end with this question… If that was true for Israel, God's people under the old covenant facing judgement and exile because of their sin and rebellion against God; if God thought of them and had a plan for their peace to give them hope and a future by forgiving their sins, wouldn't that be exponentially true for us today as God's people under a new covenant of grace, given the gift of His Spirit, who put their trust in Jesus, God's plan for salvation, The Lord Our Righteous Savior?
That's what Advent is all about. We, just like Israel, are a people who are waiting for God to fulfill his promise for our peace and to bring his plan for salvation and free us from our captivity. We are waiting for the fulfillment of our hope and for the future he has for us. Advent reminds us that God not only knows us, not only thinks about us, but that the Creator of the universe thinks so much about us that he would become one of us, walk amongst us, die like a thief because of and for us, and then trust us to continue to prepare the way for his second advent, promising to always be with us.
This second week of Advent, let us fix our eyes upon the Prince of Peace, the Prince of Shalom, who by his blood gave us peace with God, so as to be called His sons and daughters, even amidst our sin and rebellion. And let us prepare ourselves for the day when our King comes again bringing the full reign of God's peace.
Shalom,
Ben